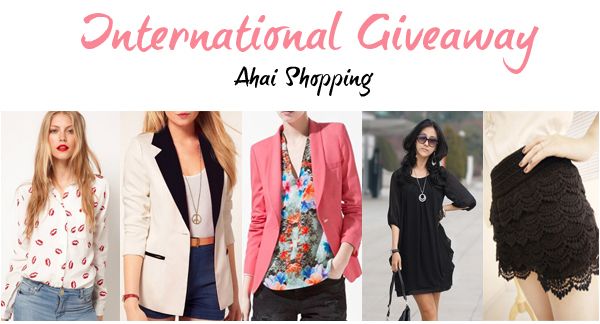 2. Ser seguidora do Burguesinhas.
3. (Opcional) Siga Ahai Shopping no Pinterest e ganhe uma entrada extra.
4. Deixar um comentário neste post com seu nome no facebook, email e o link do seu item preferido da Ahai Shopping.
Após quatro semanas serão escolhidos dois ganhadores, e cada um ganhará um cupom de $30 para gastar no site da Ahai Shopping. O frete é grátis.
Este é um concurso internacional, aberto para o mundo todo.
2. Follow Burguesinhas on GFC.
3. Follow Ahai shopping on Pinterest and you can apply again (Optional).
4. Comment your FB Name, email and the favorite items' url on this post.
There are 2 winners chose at random after 4 weeks later, winners can choose anything they want from Ahai website which totally cost $30. Free shipping worldwide.

It is an international giveaway opened for worldwide.